Issue: March 2019 (#12)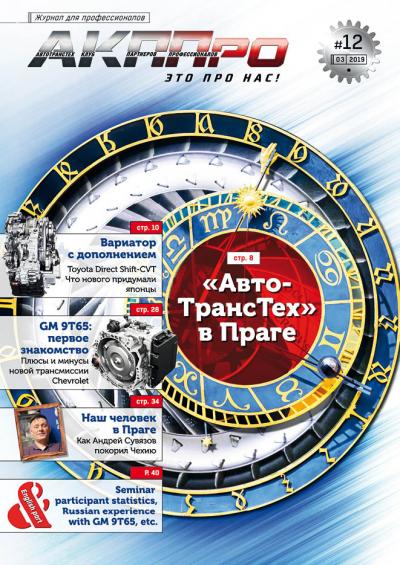 "The first time" – that's a good phrase to use in reference to any article of the first issue of the year! And we've made good use of it. It's the first time "AutoTransTech" has held a seminar in the Czech Republic. And that is why the hero of our column today (for the first time!) is a company created by Russians in Europe – Andrey Suvyazov tells us about his car service centre in Prague.
Toyota was the first to release the Direct Chift-CVT, where the traditional gear drive had been added to the CVT. Igor Yemelyanov from Novokuznetsk shares his impressions of a new automatic transmission – GM 9T65. It's the first time we have tried to question the seminar participants about the peculiarities of their trade, and we are now publishing the overview of the poll results. Besides, in this issue you will learn about the work of the leading AT components manufacturer – Sonnax, and, following our ATF overview in the last issue, about the transmission fluids YOKKI IQ and Motul. Enjoy the reading!
Valery Chusov
Editor-in-chief
Issue preview
Articles to read online